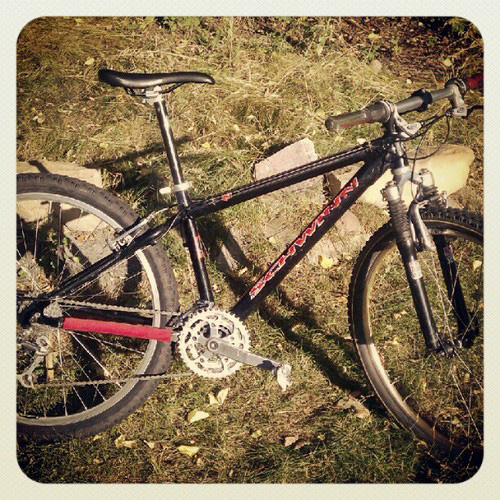 The Schwinn Homegrown. I've been looking for one of these bikes for a while. When I first started looking, my wife asked me why I wanted one. It was an older bike. The components were going to be outdated. There had certainly been advancements in the industry that would make the frame irrelevant. So, where to start. Almost 20 years later It is still a pretty lightweight bike. The geometry is pretty dialed. It's a fast bike. It was handmade here in the USA. Most of all though, it's a pretty cool little piece of Durango and cycling history.
In the 90s, Durango was a bit of a bike manufacturing mini-hub. We had a couple of good bike lines being made here. Barracuda and Yeti among the headliners with some small companies like Durango Bike Works putting out some quality frames as well. Through all the repositioning and jostling for market share in the mountain bike scene, a little line of bikes began being produced around 94/95 – The Schwinn Homegrown. Schwinn decided to produce a relevant, well made, high quality, lightweight aluminum, "homegrown" mountain race bike and turned to the expertise housed in the Yeti shop. The specifics are a little foggy, but the general consensus is that the frames were welded in Durango or the Northwest and then shipped to the Yeti factory in Durango for assembly and shipping. Later, starting in 1997, the signature "Bass-Boat" paint job was handled in a shop in the Durango area as well.
Besides a sweet, lightweight frame, the line was outfitted with high end components and a bit of charm to be sure. The tomato logo is still a personal favorite. The later Bass-Boat paint is instantly recognizable. The bottom bracket area had a pretty cool, signature cutout design in the transition to the chain stay and the seat stay had a beautiful curve that seems to hug the rear tire. All in all it was a pretty cool design. The line had a relatively quick 6 year run and died around 2001 with the bankruptcy and acquisition of the Schwinn brand by Pacific. The Schwinn logo on the front of the frames reads "Schwinn Quality" and this frame probably marks the last time that was a good thing.
Last week when I found a 1996 Schwinn Homegrown on craigslist for $100, I jumped on it. Here's to owning a piece of Durango history, a piece of American cycling history and still one hell of a sweet ride.